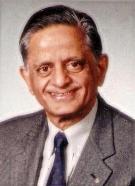 Founder : – Mr. Sudarshan Agarwal
A law graduate from the Punjab University, Mr. Sudarshan Agarwal served as a judicial officer    for nearly 15 years before joining the Parliament Secretariat in 1971. He was Secretary General  of Rajya Sabha from 1981 to 1993. Thereafter, he served as a member of the National Human  Rights Commission and held the rank and status of a judge of the Supreme Court of India. In  January 2003, he was appointed by President of India as Governor of the State of Uttarakhand  and subsequently of the State of Sikkim. He held this high office for a term of five and a half    years.
He is a social activist par excellence. He has been instrumental in setting up a world class Blood Bank in Delhi under the auspices of Rotary Clubs in Rotary District 3010. While serving as Governor in Uttarakhand, he encouraged the medical fraternity to set up a world class voluntary Blood Bank to provide safe blood to people in life threatening situations particularly in the hilly state experiencing a number of road accidents each year.
He also set up a Boarding School for bright girls from impoverished families of Uttarakhand which is free for these girls for their education, food, uniforms, toiletries, hostel stay and all other needs. The School is recognized by CBSE for Class V to XII.
Each year the management spends over Rs. 1.5 Core on the current number of 262 of girls with approximately Rs. 60,000/- on each girl. Several of Mr. Agarwal's friends in India and abroad have supported this initiative.
Executive Committee
President – Rtn. Sudarshan Agarwal
Former Governor, Uttarakhand & Sikkim,
Former Member, National Human Rights Commission
Former Secretary-General, Rajya Sabha
Vice President – Rtn. Vinod Bansal
Hony. Secretary – Rtn. Suresh Jain
Hony. Treasurer – Rtn. Ashish Ghosh
Hony. Joint Treasurer – Rtn. Sunil Jain
Members
Rtn. Aneel Agarwal
Rtn. Sushil Gupta
Rtn. K. N. Memani
Rtn. H D S Malhotra
Rtn. Atul Jain
Rtn. U N Maira
Rtn. Sanjay Khanna
Ex Officio – Rtn. Amit Jain
Ex Officio – Rtn. Asit Mittal
Ex Officio – Rtn. Ramesh Agarwal
Rtn. M L Bidani